Who are Microgaming slot fans here? Of course you must be curious about the 5 Reel Drive slot review. In this slot machine, you can hit the road and start racing with the classic-style slot machine.
Don't worry, we will determine whether this game was born to be wild, or just stuck on the hard shoulder with a tire. This is a simple game, but has a lot to cover. Alright, let's find out more about this game to see how it can give you a big payout.
The Important Things in 5 Reel Drive Slot
| | | | |
| --- | --- | --- | --- |
| Reels | 5 | Jackpot | 20,000x |
| Paylines | 9 | Max Bet | 18 |
| RTP | 96.95% | Bonus Round | No |
| Developer | Microgaming | Max Win | 20,000x |
| Theme | Around the world | Jackpot Type | Normal |
There's a good reason why 5 Reel Drive is one of the best Microgaming slots. There are no extra features or adjustable playing paylines in this slot machine game. While not having beneficial features may seem like a disadvantage, it really makes the game simpler for you to figure out.
Moreover, you will feel at home if you have played any other 5-reel game. If not, the only thing to understand is how to set your chosen betting amount every spin. To get this, click or tap the picture of a stack of coins.
Although exciting, the game's quirky Americana theme isn't particularly original. After this game's release, a year later, it was reused for Microgaming's 5 Reel Drive Mega Moolah version. There aren't many moving symbols in this game, thus the visuals may use some work.
Given the huge amount of attractive slots, 5 Reel Drive slot doesn't particularly stick out visually.
If you often prefer playing slots with more than nine paylines, you could feel as though you're losing out on chances to make more money. Although there are great chances to win, you could find that certain spin outcomes don't fit to the expected paylines.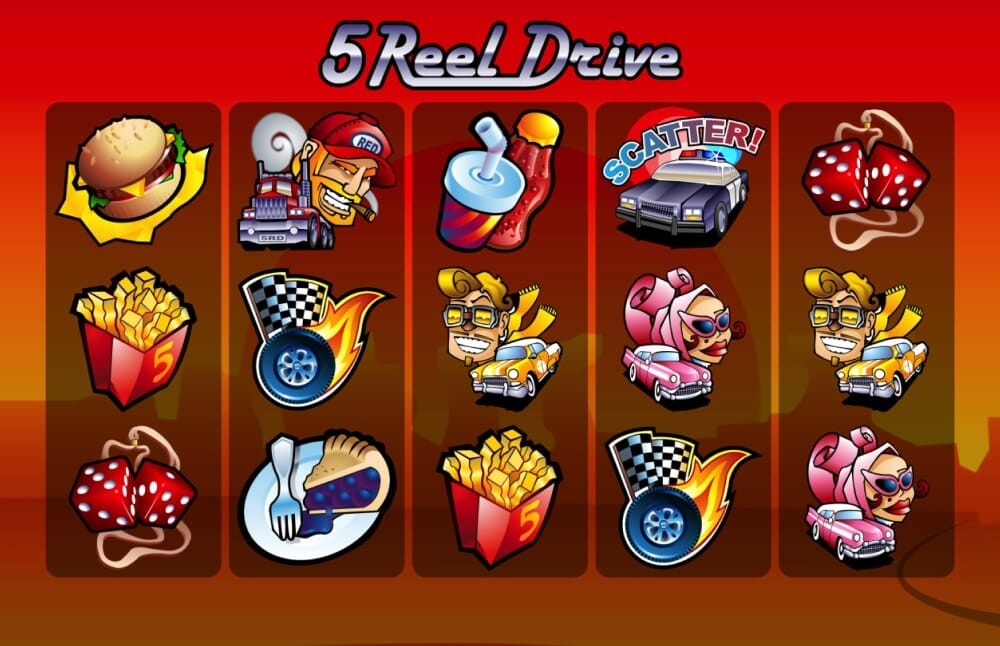 Game Jackpots
Since there isn't a 5 Reel Drive bonus round, you may expect a quick review of the bonuses. The Scatter symbol is the only feature that even slightly matches free spins or other bonus features in terms of popularity in 2022.
These symbols work similarly to bonuses in that a win can appear even if they don't appear on a payline. Despite this, some players could be turned off by the lack of real bonus rounds.
However, there is a case for doing otherwise in the 5 Reel Drive slot. Due to the game's extremely high RTP of almost 97% and low volatility, players should experience overall losses that are lower than those of riskier, higher-paying bonus round slots. Unfortunately, some bonus hunters will still find this to be insufficient.
For the jackpot hunters, the news is not any better. The maximum payout for this game is 20,000x when five jackpot Flaming Wheel symbols line up. Despite having nine paylines, the game also lacks stacked symbols. This means that you won't be able to win more money than this in a single spin. Hm, we prefer the Terminator 2 slot over this game. 
How to Play 5 Reel Drive?
The 5 Reel Drive mobile slot loads swiftly on all devices and has reasonably simple audio and graphic aspects. Anyone using older smartphones and tablets will find this useful. Some devices could struggle with the more high-octane, animated slot. The simple design, which has a single, big Spin button, works well on small smartphone devices.
This game is perfect for playing on the move because it doesn't include a bonus round because mobile users typically prefer shorter sessions. You won't lose yourself in the anticipation of when the bonus round will start! There isn't any pressure to spend hours waiting for the free spins you've been after.
Final Words
Overall, 5 Reel Drive slot might be considered as quite new when taking into account some aspects of our review. This fits quite well with its old-fashioned Americana feel. However, according to our experts, the word "classic" would be a better choice to describe the game.
The 2008 game is currently in competition with new games that have bonuses and mini-games. Mega Moolah: 5 Reel Drive slot is one such game from the same developers and in the same series that is superior in almost every regard.
It has more of the features that fans expect, including a sizable progressive jackpot and more paylines but a lower RTP. It's challenging to suggest the original online slot over its cousin with a progressive jackpot.